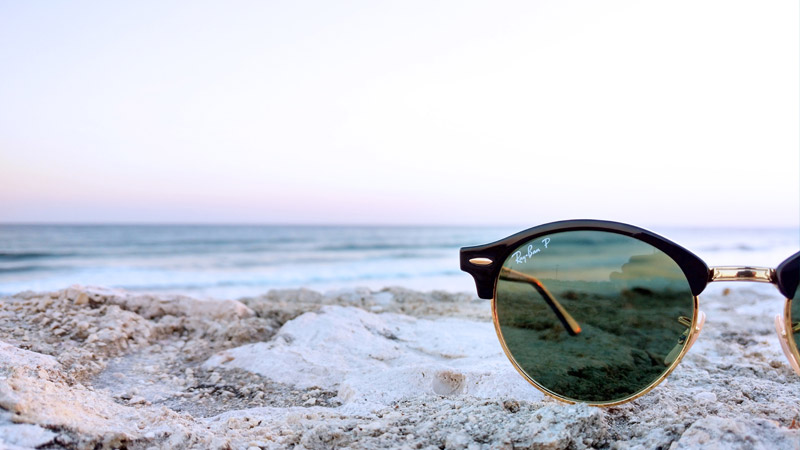 Indeed, poor quality sunglasses can hurt more than if you have no sunglasses at all. What to look for when shopping for the proper sunglasses?
When shopping for sunglasses it is essential to focus on the UV filter. The UV filter is not related to the color of spectacle lenses. Even clear sunglasses can protect your eyesight from harmful sunlight. On the contrary, dark glasses without sufficient filter can hurt your eyes. Under the dark glasses, the pupil is dilating, and more harmful sun rays penetrate into the eyes (unless they are protected by a UV filter), which can lead to permanent eye damage.
Every person should have several sunglasses – for the streetwear, for sport, or for driving a car. The sunglasses should suit well, cover your eyes sufficiently, should be light, and should not press on the temples or behind the ears, the eyelashes should not touch the glasses. For regular daily wear, glass stained in brown or gray or green should be sufficient. For the bright sunlight, darker sunglasses will be more suitable. Brightening yellow or orange shades are perfect for running, cycling or skiing. For drivers, polarizing glasses are optimal, reducing the dazzling reflections from wet roads or oncoming cars. In case of a sports or traffic accident, if the sunglasses are not high-quality, your eye or face may be severely injured by shattering sunglasses.
Most Austrians do not go out in the sun without their sunglasses. But the protection of children's eyes is often forgotten. Experts recommend protecting the youngest eyes from the sun's rays from the earliest age. Even young children who are still developing their eyes should have some UV protection on their eyes. Children's spectacle frames also exist in the smallest sizes, but not every optician's offers these. Rather than the price and design, it is important to focus on the UV filter when buying sunglasses. The sun filter category is numbered from zero to four – the same for children and adults. The value of each category reflects the light transmittance and determines the lighting conditions for which the glasses are suitable. In general, the higher the filter category, the darker the lens and the less light it transmits. In summer, category three is most commonly used – whether for adults or children's sunglasses.